Past v Present Match report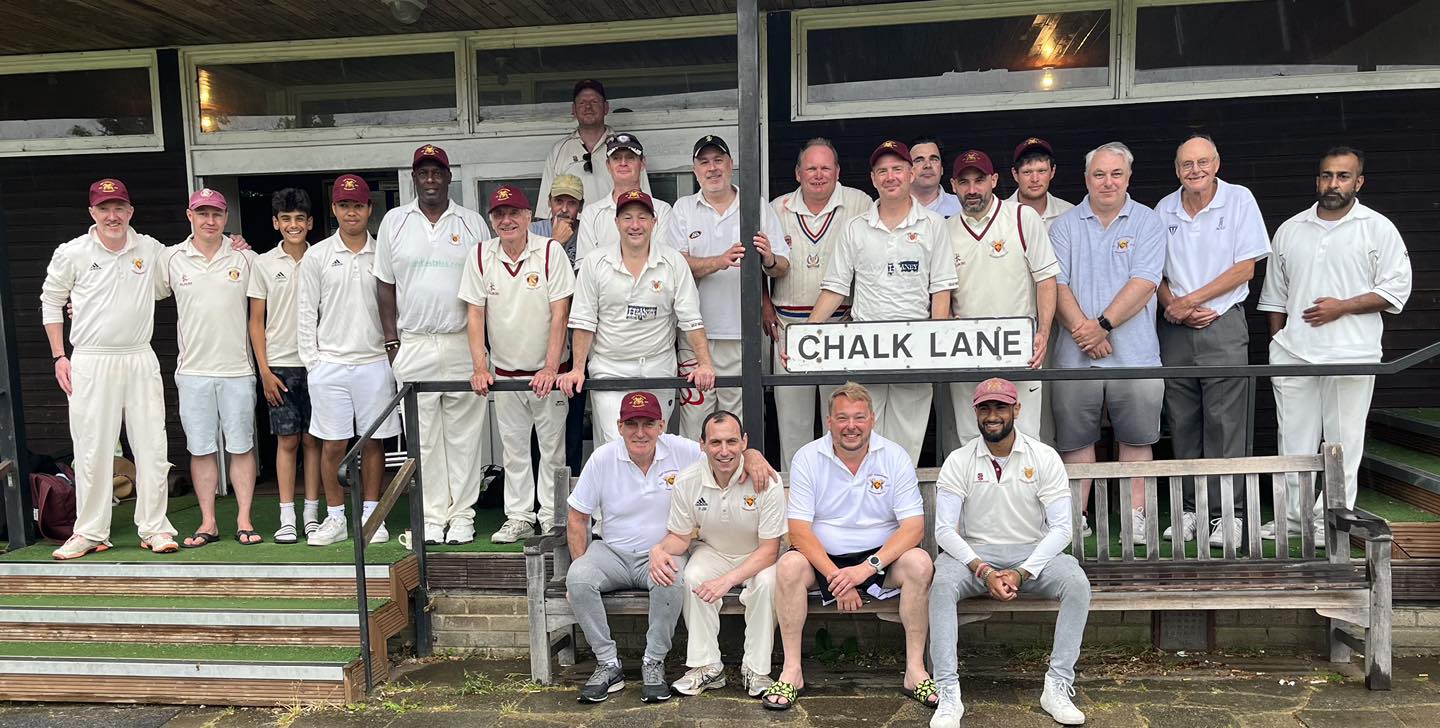 Sunday 18th June 2023
Cockfosters Legends 260-8 (40) drew with Cockfosters CC 81-5 (18) - Rain
In celebration of Cockfosters CC's 150th anniversary, the club invited a team of past players (or Legends as we prefer to be known!) under the captaincy of Scott Alexander to play against the current team in a Sunday friendly.
Scott's main selection criteria was reserved for past players whose whites were intact and still fitted, which limited his options significantly.
Such was the pull of the game that the Legends team included Jamie O'Sullivan who travelled over from California and Xav who joined us from his new home in Worcester, both of whom managed to arrive at a revamped Chalk Lane club house before Pumps!
Rather than doing the honourable thing and conceding the toss, Cheesy forced the issue. He duly inserted his guests, and this looked a rather sensible decision. There can exist no greater sight in Herts cricket than watching Declan O'Leary walking round the boundary having been outfoxed by 14-year-old Sachin. To be fair, Dec wasn't Sachin's only victim as stars from the past came and went. The only initial resistance being put up by Dave Pigden and the pitch when Dave Morgan tried to stroll a gentle single and found himself flat on his face after 2 paces. Xav (well caught to everyone's surprise by Cheesy), Danny, Tosh, Dave Morgan, Sully and Wells (run out by Dan Stead and Adam) all came and went as the visitors were reduced to 44 for 7! Having successfully lulled the oppo in, Scott joined Dave Pigden at the crease and immediately the mood changed. A procession of boundaries followed before Dave was out for a well-made 28 after a partnership of 43 with Scott. The only 2 Legends to still be regularly playing cricket managed to draw 10 and Jack out of the hat for batting positions, so Joe Clune then joined Scott in what was starting to become a run fest. Both started to make hay on a slow wicket, made even slower when Brighty was bowling. Scott now well into the flow of the game started to pepper the boundary, with one ball taking out a car on the Cockfosters Road. He brought his century up in emphatic style off just 76 balls before retiring out on 114 to allow Pumps some time in the middle for the last few overs. Pumps didn't hang around and at one stage looked like he would get to 50 ahead of Joe, but that wasn't to be, Joe scoring his 50 off 77 balls and the innings closing on 265 for 9 off the allotted 40 overs, with Pumps 32 not out.
Special mention at this point goes to Jane Fisher who produced a tea as good as anyone has had for many years. Those little strawberry doughnut things were particularly good!
After tea, the Legends reluctantly took to the field. Warm up consisted of some gentle loosening deliveries and Wells trying to take Danny's knee out by bowling the ball as fast as he could from 12 yards on the outfield.
Well and Pumps opened the bowling, and both looked in good form. Both bowled a disciplined line and length meaning that Munson was in his element, defending his wicket as though he were Jack Russell in Joburg. He did eventually start to score, but runs were hard to come by and partners started to fall, with Pumps taking the wicket of Andy Stokes, LBW. The club were always behind the rate, with Sully bowling a miserly spell from the church end despite bruised ribs and Joe Clune doing the same from the pavilion end. A couple of boundaries from (No 3) provided some impetus, before he started a series of deliveries that will live long in the memory of Joe. Not one of Joe's finer deliveries, he actually managed to knock his glasses off as he bowled, dragging the ball down as a wide long hop that the batsman kindly hit straight to Scott at cover.
Which brought Gary Webster to the crease, 2 balls later he flayed at a straight one and saw his off-bail fall to the ground. The next ball was full and straight yorking Ethan for a first ball duck, this was followed with another full and straight delivery and although Guy lunged forward, the track in its low and slow condition meant it wasn't going over the top and after much deliberation, Neil decided that a Clune jug was not to be missed out on as he raised his finger and provided Joe with his first hat trick in over 35 years.
In truth there was little more of note in the innings, save for Adam managing to nick a ball from cousin Dave to Uncle Tony at gully, who couldn't quite hold on to the ball. The rain started to fall shortly afterwards, and we left the field at 81 – 5 off of 18 overs, Adam resolute on 47 not out. Despite the club covering the pitch, getting back on the field never looked likely (this was our first rain in about 6 weeks!) and shortly afterwards the game was declared a draw, Duckworth Lewis not being called upon.
While this may appear a tame end to proceedings, each and every one of the "Legends" had a fabulous day, catching up on old times and some even pretending to know what they were doing with a bat and ball. Honourable mentions have to go to Geoff and Neil for Umpiring, Jess for scoring Kevin Brady, Woody, Mike Alibone, Medders, Ritz (Sully's far better half), the entire Sayers Clan, the entire Morgan Clan, Anthony Levy for a cameo appearance as well as Kevin Thorn and his mum Betty for coming up the club along with regular stalwarts Gerry Fisher and Club President Mike Pigden, all supporting the day.  Also, a massive thanks to the two captains of the day Scott Alexander (Legends) and Paul Moruzzi (CCC) for organizing the event.
The celebrations, drinking and singing went on long into the night, just as they used to all those years ago. The only apologies must go to some former players and supporters who weren't aware of the day. I know this most definitely was not by design and we hope to see you all next year in cricket week!
D Becker